We are the people behind CF Alpha Bravo Pty Ltd trading as Crossfit Toowoomba, Dave and Sarah Adams (Alpha) and Russ and Libby Baldock (Bravo).
For us Crossfit is not just exercise, but a way of life.
We all agree that participating in the Crossfit community has improved not only our fitness but our family and working lives.  We have all achieved fitness and personal goals far above our expectations as a result of the Crossfit methodology.  When the opportunity came up to purchase Crossfit Toowoomba, we all knew this was a chance to impact the lives of the Toowoomba community, in a positive way.
Crossfit Toowoomba is not just a gym where people can workout.
Our program is individualised to our Box and can be tailored or modified to suit every level of fitness.  We have seniors just starting their fitness journey all the way up to competitive Crossfit athletes including a Crossfit Games athlete.  Irrespective of athletic ability, anybody can participate and thrive in our workouts and reach their fitness and wellbeing goals.
As long time Crossfitters, we have all had the opportunity to experience a sense of accomplishment and achievement that comes from being able to achieve training goals far above what we ever thought was possible.  Our dream and motivation is for everyone to have the benefit of an exercise program that whilst improving health and lowering risk of chronic disease also feeds into making our members everyday lives better, richer and more productive.
Our community, just like the global Crossfit Community is very diverse. We have families with children as young as 11 training together, high school and Uni students, young adults and middle agers all the way up to our much respected seniors with our oldest member at 70 years of age.  Anyone can do it, all you need is to show up and we can take care of the rest.
We look forward to meeting you and ensuring that your time with us is the best hour of your day,
Dave, Sarah, Russ and Libby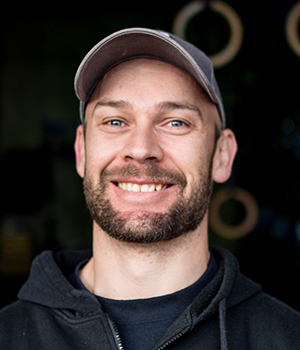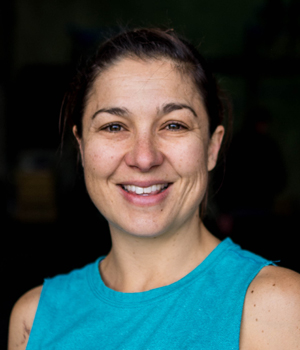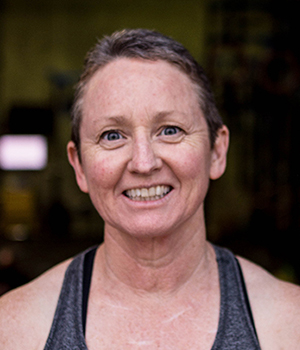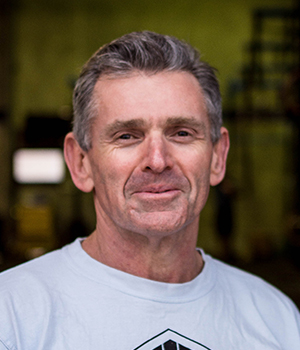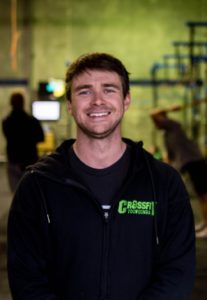 Chris McCallum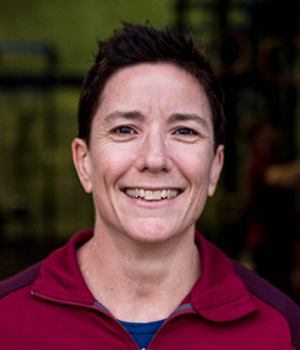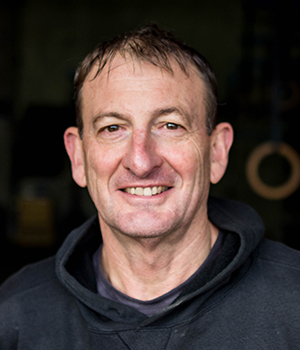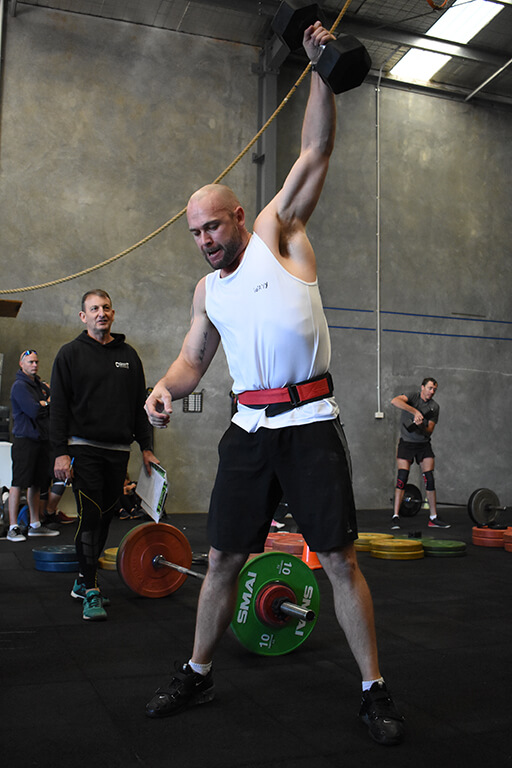 I can't whinge and say that I struggled with my weight as the fact was I owned a deep fryer, drank lots of grog and didn't care much about my body. At my heaviest I was around the 125kg mark and once I left the Army I regularly sat above 100kg. Despite being fat and lazy I did enjoy exercise as I played both league and union from when I was 6 until I was 29. After my daughter was born I blew right out #babyweight while my wife instead got skinny. She told me about CrossFit, I laughed and referenced Gym Memes. Not to be outdone I tried it for a week and have been hooked ever since.
I started coaching at the beginning of 2018. During this time I was lucky enough to be able to coach a teen athlete named Tori Gallegos. I travelled with Tori to the CrossFit games in Madison in 2018 and had the awesome experience of coaching a world class athlete at the pinnacle event of our sport. When I returned from the US after a number of discussions between what is now the Alpha Bravo team we decided that owning a Box was a must and set about making that happen.
Level 1 CrossFit Trainer
CrossFit Specialty Course- Olympic Weightlifting
CrossFit Specialty Course- Gymnastics
As a trainer I like that everything is scalable, the saying of differing by degree not kind appeals to me as I can assist anyone on their fitness journey from the beginner to the experienced. As an athlete I'm competitive and it lets me compete on so many levels. I compete against myself, the other members of the box and each year (twice in 2019) I get to see how I stack up against the world wide fitness community at the open. As both a I think it is the comradery our community is so strong it drives me each day to give my best as a trainer and also when I'm on the floor myself.
I have too many but my top three are- Grace, DT and Murph. Grace for the speed, DT for the forearm pump and Murph because it reminds me of how tough life will be if I put 10kgs back on.
If its anything more than medium you might as well order the nuggets because you are a child.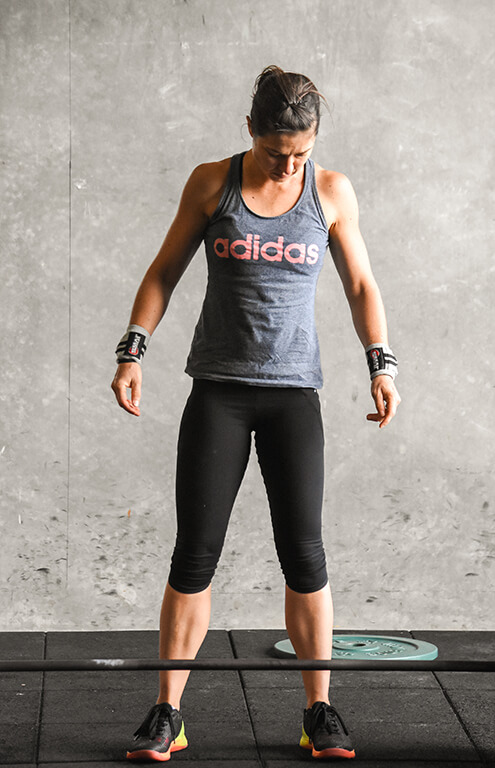 I don't really have a fitness background!  I was that kid at school that never got picked in a team and was also on the more cuddly side for most of my school days.  I started going to a gym and doing some swimming in my twenties.  After the birth of my first child two of the instructors at the local gym I was training at decided to open a 'CrossFit Box.'  I had no idea what CrossFit was but was bored and really liked both trainers.  I started training at CrossFit Highfields from its opening and have not looked back…CrossFit is so much fun!!!!
I completed my Level 1 in 2018.  Whilst I am a co-owner of CrossFit Toowoomba and a Level 1 trainer, running daily sessions is not my thing.  I see my role in our Box as chief supporter and encourager of others on their journey.  I'm the one that does all the yelling and/or hugging when our amazing members achieve something they never thought they could do or push to a level they never thought possible.    
Level 1 CrossFit Trainer, expert supporter and encourager. 
There isn't much I don't love about CrossFit!  One of favourite things is the sense of achievement that an everyday person can get when they realise they can do things, they never thought possible!  I couldn't do a push-up when I started CrossFit and over time, I have had such a huge increase in my confidence as I have achieved fitness milestones.  I will never forget my first hard fought pull up or that first deadlift with triple figure weight.  Not only do you personally get to experience amazing achievements but as a member of a community you get to share in the awesome achievements of others.  There is nothing quite like being surrounded by likeminded people, all interested in becoming the best version of themselves.    
The Hero WOD, Langley.  Rounds for time of running, air squats, pushups, and pull ups with a weight vest, what's not to love!!! 
As with all things in life, I want the best of both worlds, not too blue and not too old leather. 
I have always been a physically active person and in years gone by I have enjoyed participating in several team sports. During my life I have also experienced a number (if 10 is a number) of serious leg injuries (always my right leg) and as I moved into my 40's I started to look into how to age well, avoid osteoporosis, age related weight gain and dementia and to ensure I maintained a good level of functionality.  Through my readings I learned that, particularly for older females, weight bearing exercise was essential for strong bones and lean muscle growth; that lean muscle and cardiovascular exercise was equally important to improving ones' metabolic rate; and that 30 minutes of moderate exercise per day was shown to help reduce the onset of dementia.  I soon found that Crossfit appeared to meet all of my training needs. I joined Crossfit Toowoomba in 2012 and discovered that not only had I found something that met all of my training needs but also I had found an incredible community. 
In 2018 my husband Russell and I, together with our Crossfit training friends Sarah and Dave Adams, purchased Crossfit Toowoomba.  This is more than just a business for us, this was a chance to grow an amazing training environment that continues to welcome and encourage and embrace people and to assist them on their journey to a happier healthier them. 
I received my Crossfit Level One trainer qualification in 2018. 
Crossfit Level One Trainer
CrossFit Specialty Course- Olympic Weightlifting
Crossfit is fun. It is not just about lifting heavy and being super strong (unless you want it to be). Crossfit is constantly varied, high intensity, functional movement.  Crossfit is also about community and when you travel, domestically or internationally, you can always find a Crossfit box that will welcome you in and no matter what the language or cultural differences there is a commonality through exercise. 
"The Longest Mile" ... 4 rounds for time of: 
10 burpees, 100m run, 10 air squats, 100m run, 10 push ups, 100m run, 10 sit ups, 100m run. 
Why because anyone can do it. 
Rare, is there any other way?!
Played soccer at primary school then started playing AFL
Played AFL from age 11 through to retiring at age 45
Played cricket from 8 until the children arrived mid-twenties
My beautiful and understanding wife. She had started at CFT and fell in love with the people and what CrossFit was about.
I actually needed a fitness source because I could not make regular AFL training during the week.
I started out not being able to do a single handstand push-up or an overhead squat with a piece of dowel. I have gotten a little better since.
I completed my Level 1 in February 2016 and started as a trainer at CFT in March 2016.
CrossFit Level 1
CrossFit Weightlifting
CrossFit Gymnastics
The community of people many of whom have become best friends and like family.
The workouts because they are all different and challenge you in various ways everyday
The place and the exercise because it resets my mind and helps me "stay sane"
Learning new movements or finally getting them.
As a programmer and coach watching people learn new moves, get better, set and reach some amazing goals and just being there for people.
Murphy for everything it stands for, but
I am really starting to love grinding wods with gymnastics moves, barbell work and cardo all mixed together. Lots of work and lots of movement.
I was a well done man but my wife has changed me to be a medium to well done. You cannot have it jumping around the plate.
I have been a career Firefighter for over 6 years now so staying fit and healthy has been a big focus for me. Crossfit was suggested to me by some friends who got me to come along and "try" a session back in early 2014, Since then I haven't looked back and still love it whether I'm training or coaching.
Level 1 CrossFit Trainer
CrossFit Specialty Course- Olympic Weightlifting
CrossFit Specialty Course- Gymnastics
The community - No matter what Crossfit box I've been in they always make you feel welcome and have friendly faces. 
Amanda, who doesn't like muscle ups and snatches ? 
Im a medium kind of guy but if I had to choose between the two I would be well done. 
I had always struggled with my fitness. I tended to get bored with going to the gym or running. A friend who was going to CrossFit Toowoomba recommended it, and I was hooked.
I love the sense of community - people with a wide range of backgrounds all coming together to get fit and be better. There is always something to work on - the challenge of trying to improve keeps me coming back for more. I love seeing people achieve things they thought were impossible.
Flight Simulator - you can never have too much skipping. It was a workout that drove me nuts until I got proficient at double unders, but I still remember the satisfaction of completing it the first time.
Medium rare by preference but would definitely prefer it mooing than boot leather.
I have served in the Army for 43yrs+ and during this time competed in a range of sports; Touch Footy, Rugby Union, Hockey, Australian Rules, athletics and Golf. I had to maintain a reasonably high level of fitness in order to pass the six monthly fitness tests.  However, in later years my fitness was directly tied to the fitness test so I became situp, pushup and running fit only.
However, in Jan 2010, Colonel 'Charlie' Barton challenged me to do a workout with him while we were in Darwin on a work trip. He said the workout is called 'The 300'.  We did all these weird movements including 'floor sweeps' and somehow I was hooked.  I backed up with another workout the next day which had a lot of squats and by day three I could barely walk upstairs or downstairs.  Despite the soreness, I found the variation in movements a lot more challenging and realised that I actually lacked all round strength and fitness.
Jo Brooker-Clarke opened CrossFit Toowoomba in Jan 2010 and I went to an open session at her home garage gym.  I took what I learned from Jo and did some basic workouts at home but this wasn't as fun as doing the workout with someone else. So In May 2010 I joined up as a Member of CrossFit Toowoomba and have remained since. 
I remember I couldn't do an overhead squat even with a broom stick but persevered and after 18mths I could finally do an overhead squat with a 20kg bar.  Now my PB is 75kg.
I attended the CrossFit Level 1 Trainer course in Jul 2012 and commenced training soon after on a part time basis
CrossFit Level 1 Trainer course in Jul 2012 
CrossFit Level 2 Trainer course in Jul 2014
Australian Weightlifting Federation (AWF) Club Sports Power Coach Course (Level 1) - 2015
AWF Club Sports Power Coach Course (Level 1) - Refresher in Dec 2018
CrossFit Level 2 Trainer course in May 2019 - Refresher
Growing physically and mentally stronger and fitter despite aging
Growing together as a Community with like minded champions
'Annie' 50-40-30-20-10 Situps and Double Unders
One of the few workouts where I can beat the younger ones!
Grown men die for it, babies cry for it - recognition!